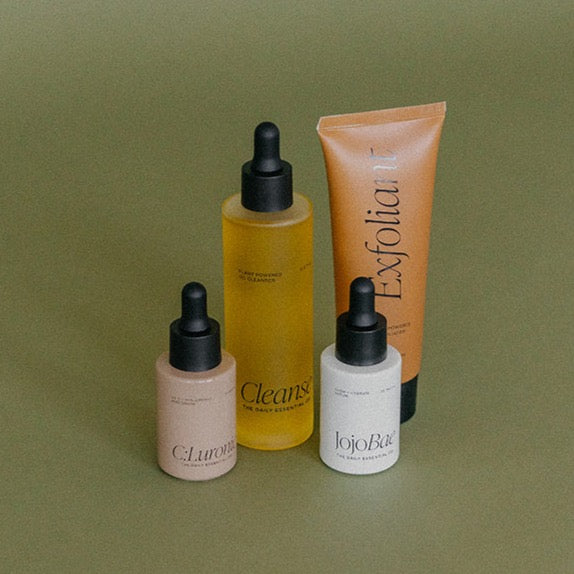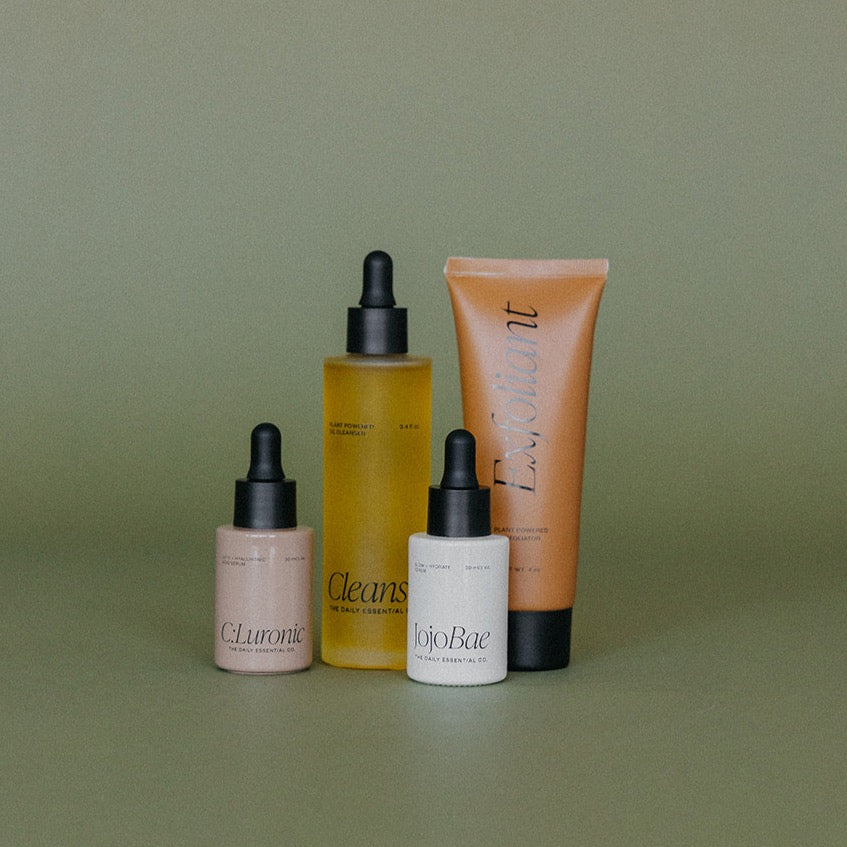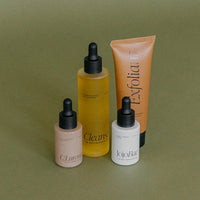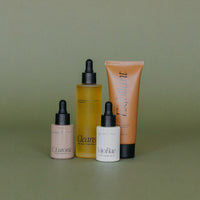 Fresh Start Bundle // one of everything
If you're wanting to overhaul your routine + get a brand new, fresh start ✨ Then this bundle is just for you! This is for the girl (or guy) who likes one of everything, an entire skin care routine from TDE!
What's included:
Cleanse 100ml
Exfoliant 4oz
C:Luronic 30ml
30ml Bae of your choice
What's included:
Cleanse
Based on the scientific principle that oil dissolves oil, CLEANSE utilizes pure, plant powered oils to do just that-- dissolve daily dirt + makeup trapped in the oils of our skin. Oil cleansing isn't new, beginning centuries ago, oil cleansers allow product to sink deeper into the skin, amplifying your entire skincare routine + keep your natural sebum uncompromised.
 Bae Serum (jojobae or skinbae)
You have two options for Bae: Skin Bae + Jojobae. Both have the same active ingredients, but have a different carrier oil. Skin Bae has our rich, rosehip oil. Designed for dry, aging skin, less "sensitive" skin. Rosehip reaches deep to hydrate, boost collagen + elastin and give you that overall glow everyone is talking about!
Key Benefits
Hydration + Glow
Improving tone + texture
Boosts collagen + elastin
Plumps + firms 
C:Luronic
Unlike anything on the market skincare favorite, C:Luronic combines the brightening beauty of Vitamin C with the hydrating powers of Hyaluronic acid. C:Luronic diminishes visible signs of aging for smooth, bright, and firm-feeling skin. C:Luronic is a blend of the highest performing, clean ingredients. 
Exfoliant:
This essential skincare step is finally ready to jump into your routine! Exfoliant is designed with salicylic acid + jojoba oil beads to combine the exfoliating powers of an active ingredient with the gentle scrub of a physical exfoliant.